About us
Kwazar Corporation Sp. z o.o. is one of the leading plastics processors and manufacturer of sprayers in Poland. Machine park, which gives enormous productive capabilities, makes Kwazar not only a producer of its own products, but a plastics converting platform with tremendous potential.
Thanks to its extensive distribution network, the products manufactured under Kwazar brand reach about 100 countries globally today, including Algeria, England, Austria, Belarus, Bulgaria, Czech Republic, Denmark, Arab Emirates, Estonia, France, Spain, Netherlands, Canada, Columbia, South Korea, Lithuania, Latvia, Mexico, Madagascar, Germany, Russia, Romania, Serbia, Slovakia, Sweden, Ukraine, as well as USA and Italy.
Kwazar Corporation Sp. z o.o. carries out the project co-financed from the European Funds consisting in participation in exhibitions, fair trade shows and economic missions on selected foreign markets. The aim of the project is to promote the technical products of Cleaning Pro+ sprayers series and to extend the export activities beyond the EU markets as China, Russia, Turkey and the USA, which will create new growth prospects and will enable the company to expand its business activities.
EU co-financing of the project is 188 148,00PLN

Leading horticultural producer in Poland
a Polish company with tradition and over 28 years of experience in manufacturing
production of plastic products for various industries
a wide range of products: a large selection of garden products, i.e. professional garden sprayers, a technical series, hobby sprayers, accessories for sprayers, snow shovels and universal shovels, insect traps, products for road engineering
large production capacity (e.g. Development of products from scratch),
own machine park (products are manufactured in Poland, capacities from 0.5L to 1500L, production of details weighing from 0.2 kg to 34 kg)
global brand, recognized on different continents
extensive business experience in both the Polish and international markets (the sales department sells in the country as well as abroad)
a team of qualified and experienced professionals, engineers and practitioners - a prototyping department, an engineering department and an R&D department, own tool shop, new machine park (refreshed periodically)
continuous investments in technologies and workforce
flexibility and on-time delivery
innovative technology solutions in products
achievements - over 25 years, the company was frequently awarded/distinguished at trade fairs and international events
rapid and trouble-free service
minimum (statistical) number of complaints (ISO 9001)
subsidiaries in Russia and the UK
Kwazar in numbers
Machine park, which gives enormous production capacity, makes Kwazar Corporation Sp. o.o. is not only production of own products, but a platform of plastics processing with huge possibilities. The company currently executes many individual orders, both for the domestic market and for foreign markets.
year
1989
Creation of the first sprayer
Market share
65%
Leader of the horticultural industry in Poland
Nearly
7.9 MLN
For investments from 2011
Quality
In the production process we pay special attention to quality and production technology. Thanks to well-designed and very detailed quality control procedures, we are confident that the market will find products that will satisfy even the most demanding customer.
The quality of our products is confirmed by the PN-EN ISO 9001:2015 certificate, but above all, it is widely acknowledged by our customers all over the world.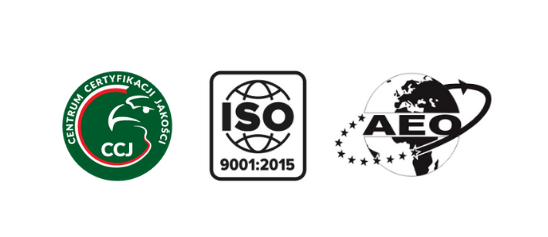 Company history
1989
The company was founded and the first sprayer was constructed
The beginning of the company dates back to 1989. Then, Michał Łosiak opened and started the plastics processing plant - Kwazar Corporation. The company was founded in Jaktorów, where today the company is located.
Shortly after launching, the first sprayer model was designed. It was prototype of Orion Super sprayer with a capacity of 6 liters - is currently the most popular product in our offer and the best selling sprayer in Poland.
1995
Production of shovels and extension of garden sprayers offer
In the middle of 90s the production of plastic snow and universal shovels was started.
As the company portfolio kept extending, it became necessary to develop our machine park, which allowed for the further development of garden sprayers series. Mercury and Venus sprayers were developed, the first knapsack Neptune sprayers was constructed and Orion sprayers with different capacities were introduced to the market.
1998
The first electric sprayer was developed
The first electric sprayer Zeus (today Neptune EL) was developed. It was also the first such product manufactured entirely in Poland.
2000
A series of Cleaning PRO+ technical sprayers was developed
Kwazar garden sprayers shortly became so universal tools that they quickly became applicable in food industry, aviation and military industry, healthcare, fire services, fishing, catering, cleaning and forestry. Kwazar company's response to the market needs was equally immediate. Following the garden sprayers design, PRO+ sprayers series with Viton seals intended for work with harsh chemicals were created.
2008
A series of road safety equipment Road Pro was launched
Development of the machine park and specialization in plastics processing by blow molding method also allowed for the production of large-sized items. Thanks to this, Kwazar has started production of road safety equipment.
2010
Establishment of company in Russia
Expansion into foreign markets resulted in the establishment of Kwazar company in Russia - Kwazar Russia.
2012
Establishment of company in United Kingdom
Expansion into foreign markets led to the establishment of Kwazar in United Kingdom, based in Birmingham.
Powstaje spółka Kwazar Plastics s.c.
Firma świadczy usługi w zakresie produkcji wyrobów z tworzyw sztucznych przy użyciu technologii wtrysku ciśnieniowego oraz z systemem gorąco kanałowym.
2014
Development of Heavy Duty sprayers with high chemical resistance
Heavy Duty series of high chemical resistance was developed - acid line, alka line and solvent line for use with acidic, alkaline and solvent formulations.
1989

1995

1998

2000

2008

2010

2012

2014